Tustin, Irvine & Santa Ana Spinal Decompression
At Milam Chiropractic and Sports Therapy in Tustin, we offer patients a variety of back pain treatments, including spinal decompression. Patients who have back pain or injures like herniated discs can benefit from spinal decompression. Still, spinal decompression is a condition that many patients know little about. That's why we do our best to educate patients about the benefits of this helpful technique. If you suffer from back problems, speak with our chiropractor to determine whether or not spinal decompression is right for you and your needs.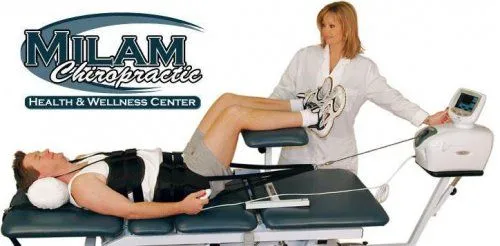 About Spinal Decompression
Spinal decompression is a nonsurgical therapy that helps relieve back pain and change the position of the spine. Spinal decompression is done via motorized traction that stretches the spine and creates negative pressure around the vertebrae. By creating pockets of negative pressure around injured discs, spinal decompression promotes movement of blood and oxygen in these areas of the body. This provides relief to herniated and bulging discs, and can promote healing.
Benefits of Spinal Decompression in Tustin
Spinal decompression can help patients in a number of ways, including the following:
Pain Relief - Spinal decompression can provide the patient with pain relief over time.

Healing -This technique helps heal patients who have injuries such as a herniated or bulging disc. Spinal decompression also provides pain relief to patients who suffer from general back pain.

Muscle strengthening - By shaping and stretching the muscles over time, spinal decompression helps strengthen the muscles of the back, neck and shoulders.
Spinal Decompression Process
At Milam Chiropractic and Sports Therapy, the process of spinal decompression is fairly straight forward. We ask our patients to lie down on a table, either face up or face down. A harness is placed around the pelvis and trunk, and the table itself is controlled by a computer. The computer in this table performs the spinal decompression. The table is programmed according to the needs of the patient, and the doctor stands to the side and operates the table. The entire process is tailored to the needs of the patient to ensure effectiveness.
Spinal decompression is not successful overnight. This technique is done over a series of weeks, in sessions that last between 30 and 45 minutes long. After going through the spinal decompression process, your Santa Ana chiropractor will assess your condition and then decide based on your symptoms whether or not more therapy will be needed.
Contact Your Tustin, Santa Ana & Irvine Chiropractor
At Milam Chiropractic and Sports Therapy, we treat patients with spinal decompression, heat and cold therapy, chiropractic care and massage therapy. To find out more about how our spinal decompression can help you achieve your fitness and health goals, contact your chiropractor at Milam Chiropractic and Sports Therapy today. Your chiropractor can use spinal decompression and other natural, non-invasive therapies to help you. Contact us for an appointment today!